Evandale Estate
A fter 145 years and five generations, the estate of Evandale at Keyneton in the Eden Valley wine region has new wine.

February 2013 saw the vertical release of Riesling Traminer vintages 2010, 2011 & 2012.
2013, 2014 & 2015 have since followed and all have distinct personalities yet each consistently displays citrus and cool climate characteristics for which Eden Valley Riesling is renowned.
Inaugural vintage 2010... A grapefruit and floral bouquet with the combination of 2/3 Riesling and 1/3 Traminer giving a unique complexity to the resulting wine. Citrus and honeysuckle with a crisp lively finish.
2011... A delicious cool climate blend of 2/3 Riesling and 1/3 Traminer displaying lemon zest and floral aromas. The palate is full of lemon / lime citrus and rose petal flavours intermingled with delicate natural acidity resulting in a wine with exceptional palate length.

2012... An enticing cool climate blend of 2/3 Riesling displaying lime and lemon characters with aromatic floral aromas from 1/3 Traminer. The palate is a dry style, subtle in flavour with white peach and a delicate natural acidity
2013... A blend of 76% Riesling and 24% Traminer from the world famous Eden Valley region shows enticing lemon, lime from the Riesling portion and aromatic rose petal characters from the Traminer. The palate is dry style, with a delicate natural acidity and flavours of citrus and white peach. This wine will age gracefully for next 5-8 years.
2014... Enticing aromatics of rose petals from the Traminer married with the lemon and limes from the Riesling makes this wine exceptionally attractive.
These flavours follow through on the palate with a crisp, zingy acidity enhancing the wine's length and balance.
2015... Alluring perfumes of rose petals and honeysuckle with apricot and lime blossom lead into delicately balanced flavours of white peach, lime zest and subtle tropical notes. There is a fine flinty minerality underlined by the textural nature of our Traminer, supported by clean natural acidity given by our Riesling.
Evandale Open Garden


Thank you to all who ventured to Evandale homestead

for the 2013 Open Gardens Australia

weekend

Saturday & Sunday 26 & 27 October.

A good many of the four hundred visitors through the gate sampled Evandale Estate home-grown refreshment after exploring the nooks and delights of Dick & Jenni Evans' expansive garden. It was a pleasure to introduce the range to the public and a thrill to see many familiar faces and Evans descendants.



Margaret (Marnie) Arnott collecting wine from Bill Evans during the Evandale Open Garden
An inaugural meeting for both grandchildren of the youngest of the Ivanhoe clan of Henry Angas and Marianne Evans; Marnie, of Lillian Ivy Marianne Evans (1885-1944); & Bill, of Maurice Leslie Evans (1889-1968)
On Mission 2014
On Sunday 21 December last Bill and Rev Dr Andrew Williams arranged to meet at the winery after attending Community Carols in the Independent Chapel at Keyneton. Andrew, in SA for his brother Mark's 60th birthday celebrations, took timely opportunity to visit the Chapel of his forebears and experience the joyous community gathering that is the annual event preceding Christmas. Andrew and family were keen to meet Bill, visit the winery and restock the car with Evandale Estate wines for ongoing fund raising in their hometown of Sydney for the Mo unga Olive College hall in Tonga.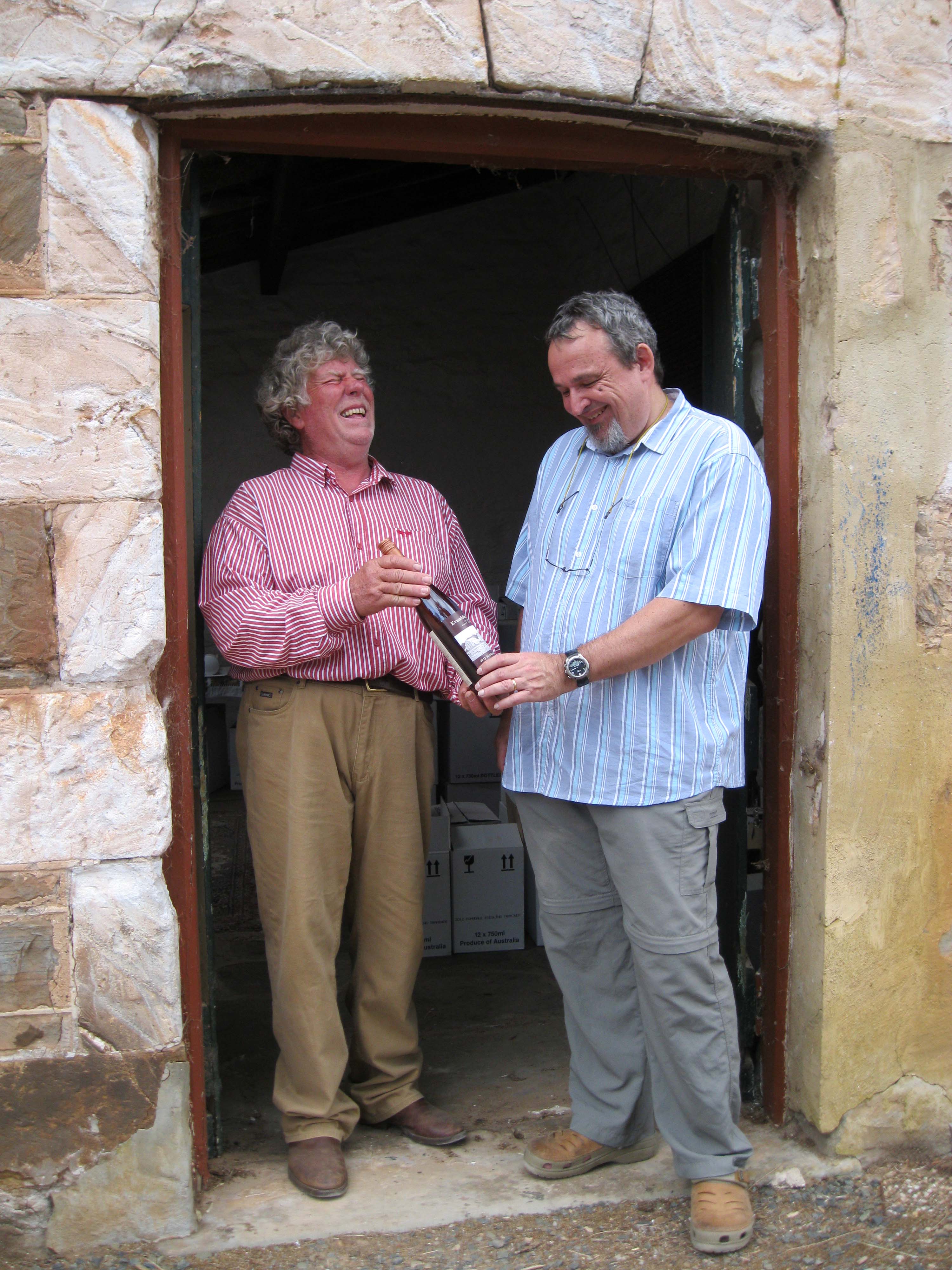 Bill and Andrew 21/12/2014


Bill is second cousin to Andrew's late mother, Mary Lillecrapp (1930-1974), grand-daughter of Ada Louise Evans (1873-1957).