First born to Marianne & Henry Angas Evans in 1864 was
Alfred Lindsay,

and
before the decade was out
was
soon joined in quick succession

by siblings Fred, George, and Edith.

Known by his second Christian name, the maiden name of his great-grandmother, and carried by his Granny Sarah, young Lindsay was educated at Glenelg Grammar, a Congregational school established in 1868.


Upon schooling completion he returned to

Ivanhoe

and commenced a career under his father's tutelage with

Evandale Fruit and Dried Fruits

.
It is unclear when his father allocated land to Lindsay to embark on an enterprise of his own such as stock grazing, yet throughout his adult life, Lindsay would consistently describe his occupation in the annual volume of the

South Australian Directory

as Gardener, thus identifying himself with his foremost occupation that of managing

Evandale

with his brothers.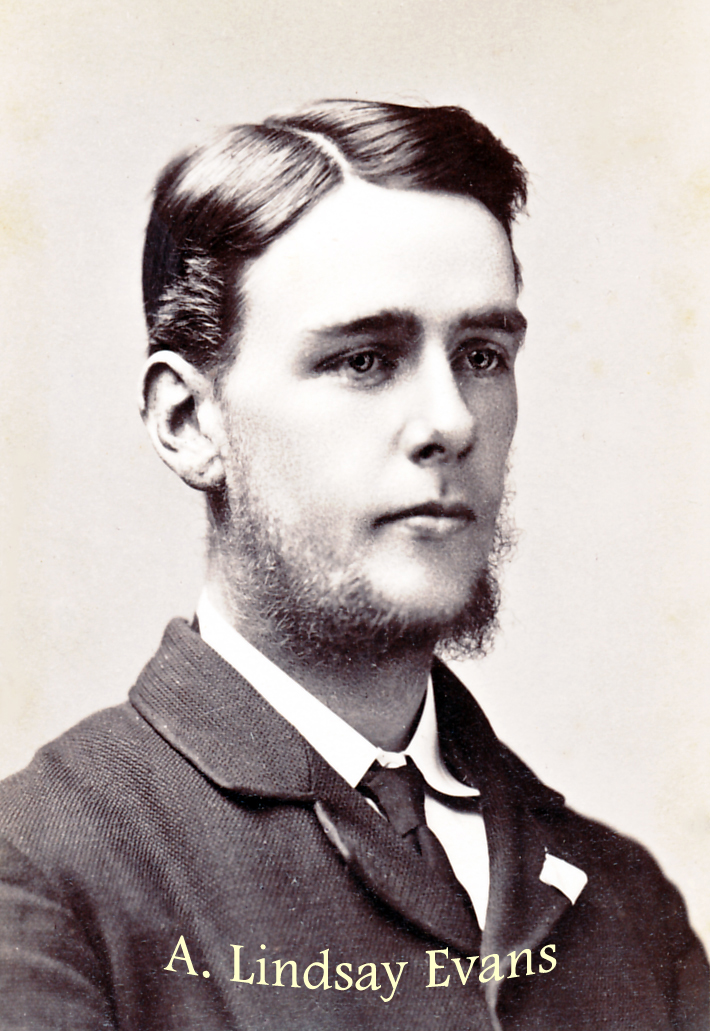 A devout Christian and committed to the North Rhine Independent Church, he taught class at Sunday School conducted in the Temperance Hall. An active member of the North Rhine Band of Hope (temperance organisation), Lindsay endeared
himself to a great many people by much good work carried out in an unassuming manner.


His temperance beliefs did not prejudice his courting the daughter of active parishioner and local winemaker, John Heath.
Lindsay and Alice Heath celebrated their nuptials in a double ceremony (with separate ministers) with brother, Fred and his bride, another local girl, Annie Jackman.
Joint Wedding
Evans-Heath .-On the 14th October, at the Independent Church, North Rhine, by the Rev. F. C. B. Fairey, Alfred Lindsay, eldest son of Henry Angas Evans, of Ivanhoe, Keyneton, to Alice, eldest daughter of John Heath, of Heathvale, Keyneton.

Evans-Jackman.-On the 14th October, at the Independent Church, North Rhine, by the Rev. W. O. Ashton, Frederick Lavington, second son of Henry Angas Evans, of Ivanhoe, Keyneton, to Annie, youngest daughter of Joseph Jackman, of Ethelville, Rhine Villa.
The Advertiser 27 October
& South Australian Chronicle
31 October 1891
Lindsay and his bride established a home on

Rockville

, the name so chosen for Lindsay's portion of

Evandale

land, and very near

Heathvale

, Alice's family property.
Alice made her husband a father of two by 1896; daughter, Irene (Rene) and son, Henry Lindsay (Harry).

The Evans siblings were close not only in age but shared interests.
Lindsay, Fred, George and Arthur were all members of a P.S.A. Society (Pleasant Sunday Afternoons), a branch of which had formed in Angaston. The general emphasis of P.S.A.
programmes

was recitations and very musical with many forming choirs with handbell selections.
The Evans brothers' uncle,
John Howard Angas (whose accountant was the inaugural president of the Angaston P.S.A. Society), gifted a set of fifty bells brought back from England to the local P.S.A. Society and were generally played in five part harmony.
The brothers were recorded in 1900 as giving generously to the Society
'

s collection for famine relief in India.

The brothers Evans (including the younger, Percy and Maurice) were keen riflemen and formed the
core of the Keyneton Rifle Club

. Competitions were either Smallbore or pistol, both of which Lindsay shot with respectable scores.

Upon Henry Angas Evans' death in 1901, Lindsay assumed the role of church treasurer
previously held by his father. The Independent Chapel was

by this time known as the North Rhine Congregational Church.
The sudden death in 1903 of Alfred Lindsay Evans at age 39, was met with immense regret and sadness.
The Country.
The Late Mr. A. Lindsay Evans.
North Rhine
, November 7.
The residents of the district of North Rhine were shocked on Friday at hearing the report that Mr. A. Lindsay Evans had been taken suddenly ill, and was not likely to recover. On making enquiries at his residence at

Rockville

it was found that he had passed away early in the afternoon. During the last few weeks Mr. Evans had been suffering from slight indisposition, and quite recently consulted a medical man; no danger, however, was expected. On Friday morning he went to business as usual, although complaining that he did not feel well. After lunch he was not well enough to return to

Evandale

. An hour later he suddenly became worse, and passed away before his wife was able to procure any assistance...
Mr. Evans, who was in the prime of life, has left a widow and a young family.
On Sunday morning a memorial service was conducted by the Rev. Leonard Robjohns, B.A., in the Congregational Church, at which testimony was borne to the great esteem in which Mr. Evans was held by a large circle of friends.
Register
10 November

1903
Family Notices
The Friends of the late Mr. Alfred Lindsay Evans are respectfully informed that his remains will be Removed from his late Residence, Rockville, Keyneton, on Sunday Afternoon, for Internment in the Keyneton Cemetery. Register 7 November 1903
With the support of the Evans and Heath clans, fellow parishioners and the wider district, his widow continued on the land confidently trading stock in her own name. In due course son Harry took up the mantle at

Rockville

of stock grazing & wool production.

Alice was interned 33 years later
next to her husband in the Keyneton Cemetery

, bequeathing the

sum of 50 pounds
[sterling

] to the

Keyneton

Congregational Church

.
March 1904
The renovation of the Congregational Church at Keyneton , of which the Rev. Leonard Robjohns is minister, was completed last week by Mr. E. Troy, who has placed in the east front of the church two beautifully illustrated windows, the gift of Mr. J. H. Angas of Collingrove. These windows were presented by Mr. Angas in memory of the late Mr. Henry Evans , of Evandale, and the late Mrs. S. Lindsay Evans , who was a sister of Mr. Angas.
Mrs. H. Angas Evans and the members of her family have had added to the church a beautiful little porch in memory of the late Mr. H. Angas Evans and their son, the late Mr. A. L . Evans , who died suddenly in November last. The porch is lighted by an effective window by Messrs. Vosz & Co., of Adelaide.
The subject of the window is the Ascension.
The church has been painted and decorated within and without through a fund that was inaugurated at the harvest thanksgiving service of last year and completed at the harvest thanksgiving on Sunday last. The gables at the end of the church and porch have been covered with ornamental large boards, and the general effect of the whole is very pleasing. Mr. E. H. Plumstead, of Angaston, was the contractor.
The Advertiser

&

Register
21 March

1904